Opinion: APC , Adams Oshiomole and Godwin Obaseki Tussle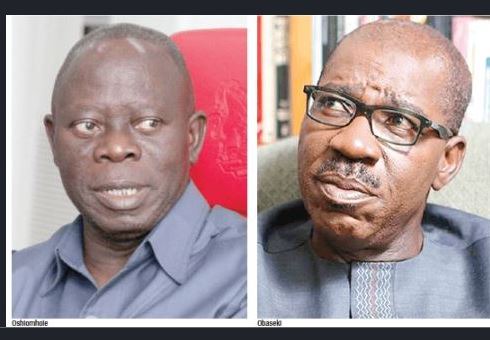 Over the years, the political atmosphere of Nigeria has been saturated with various drama and different brouhaha which for a fact are not new. For every country, there are different things that arise and in process of everyone defending their interest hell may let loose even the uncommon event might even take the center stage.
However, the case of Nigeria politics in Edo state took the weirdest scene when small disagreement between the former national chairman of All progressive congress in the person of Adam Oshiomole and the incumbent governor of Edo state Godwin Obaseki became world issues. This disagreement aggravated to a national issue that took everyone by heart. Who will ever have thought that the man who Adam Oshiomole was aggressively campaigning for will become his night mere overnight and the person who was busy supporting both the financial discrepancies of Adam of Oshiomole and money laundry would stir up hatred of the people against his former boss.
One of the act that shocks of all these situation was when the current APC governorship aspirant who contested against Godwin Obaseki in the last election join the current governorship race after decamping from PDP to APC and he became a saint overnight. The same man Adam worked against, the same man that all his evil act that has been perpetrated from the past was dung out has been re-personified by Adam Oshiomole as the best candidate for state. Funny enough, same Obaseki that was seen as a disgruntle element by the People's Democratic Party has now became the perfect choice of the party and sincerely all of these drama was something that calls for one galls but has become nothing in the face of stakeholders and the game players in the state.
Conclusion
If we should give you all the drama in Edo state today, it will shock you, however, we have limited it here till further update.